We all want to have an effective personality. Your smile is essential in that. An attractive smile cannot achieve without proper dental care. Most people neglect to take care of their teeth daily. so we help you to find out best toothpaste in india.
Toothpaste contains ingredients that can take care of your teeth, including fluoride, a variety of colors and flavors, natural and herbal pastes such as salt, neem, aloe, clove oil, charcoal. Here we are listing all-time famous and best toothpaste in India.
1. Colgate Toothpaste
When we ask most Indians, they suggest the name Colgate-Toothpaste. Colgate is the most trusted brand in the Indian market. Colgate has dominated the Indian market for many years. It not only famous in India but it is one of the most famous brands in the world. It became the top selling toothpaste brand in 1999. Colgate toothpaste brand owned by the American Colgate Palmolive Company. it is best toothpaste in india.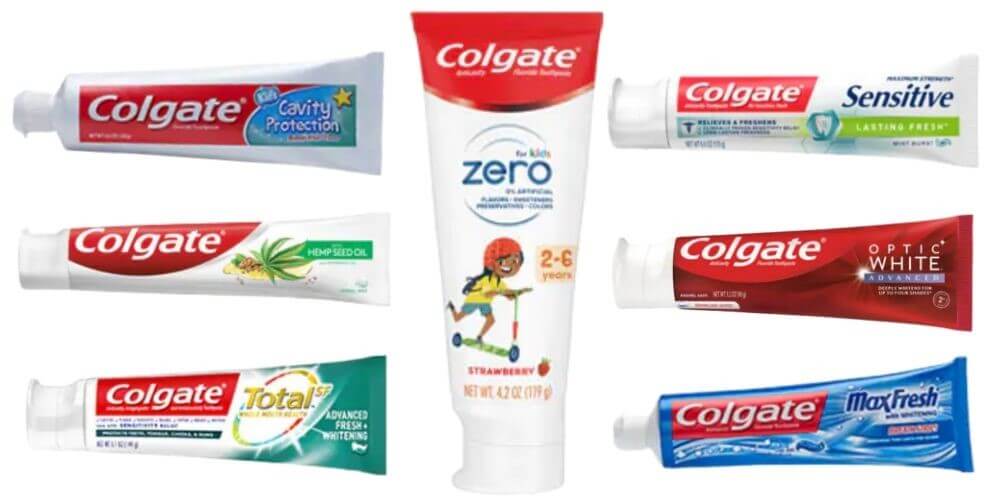 2. Close-up Toothpaste
Unilever produces a close-up toothpaste brand. It is an American company. Close-up is the first gel type toothpaste in India. This brand is popular among the youth. The close-up tagline is 'Taazgi Jo Paas Laye'.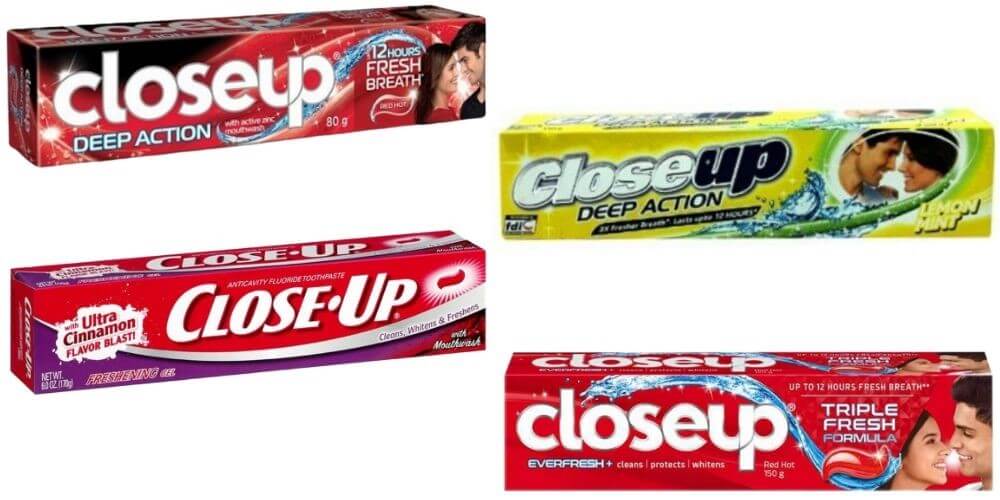 3. Pepsodent Toothpaste
It is an American toothpaste brand owned by Unilever. For 12 hours, Pepsodent protects against cavitation-causing germs. This toothpaste comes with the minty flavor it derived from sassafras. Pepsodent's toothpaste slogan is 'You'll wonder where the yellow went / when you brush your teeth with Pepsodent'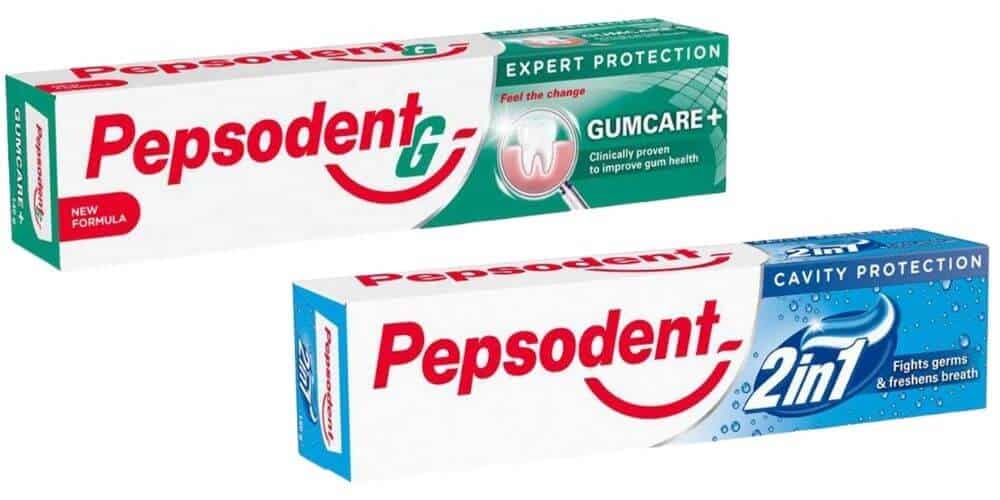 4. Sensodyne Toothpaste
Sensodyne toothpaste brand owned by GlaxoSmithKline. Since 1961, Sensodyne is in India. It is the best choice for sensitive teeth; most of the dentists recommend this toothpaste.
Sensodyne toothpaste comes in different variants like whitening, fresh gel, herbal multi-care,fresh mint, deep clean, rapid relief,etc.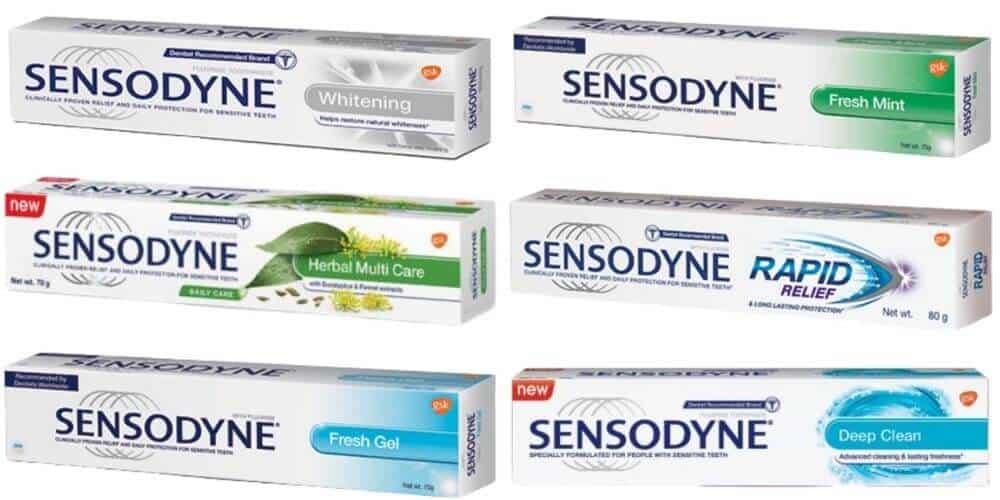 5. Himalaya Herbals Toothpaste
As the name suggests, it comes with different natural ingredients, chemical-free toothpaste. It is the most famous Indian brand for its antioxidant properties; fresh and clean breath and solve in bleeding gums problem.
It comes with different ayurvedic ingredients like neem, Mint, Pomegranate, Triphala Miswak, Cinnamon Clove.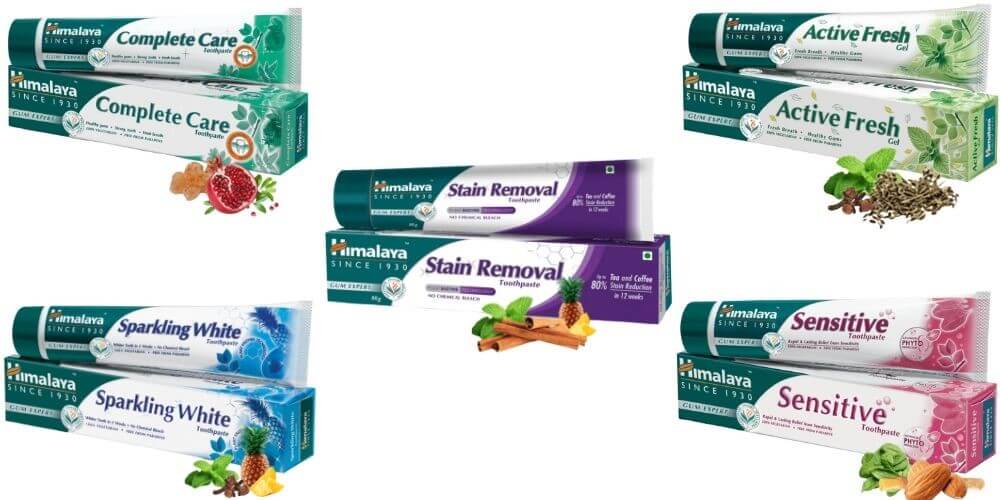 6. Oral-B Toothpaste
Oral-B is an international brand, and its expertise is in designing toothbrush. It is classified as a premium dental care brand in India. However, Most of the dentists suggest there toothbrush and mouthwash.
Oral-B toothpaste comes in different variants such as 3DWhite Whitening Sensitive, 3DWhite Whitening Enamel Care, Gum & Enamel Repair Original, and Gum & Enamel Repair Gentle Clean.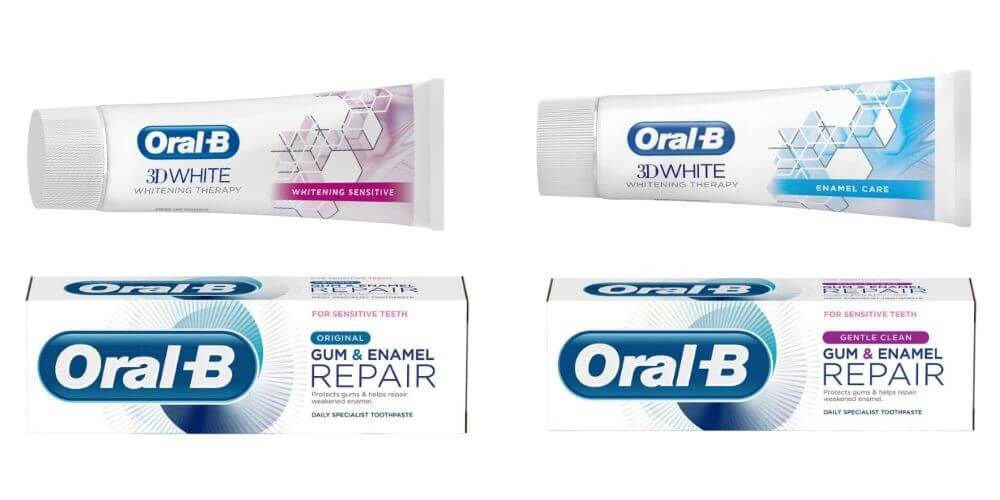 7. Patanjali Dant Kanti Toothpaste
Patanjali Dant Kanti is an Indian brand owned by Baba Pamdev. As the name suggests, it comes with herbal ingredient and solved dental problems such as bad breath, bleeding gums, cavities, yellow teeth, tooth decay, painful, and swollen.
It is a brand that challenges the Colgate's monopoly in India. Patanjali toothpaste comes in different variants like Natural, Junior, medicated oral gel, aloe vera toothpaste, advanced dental care.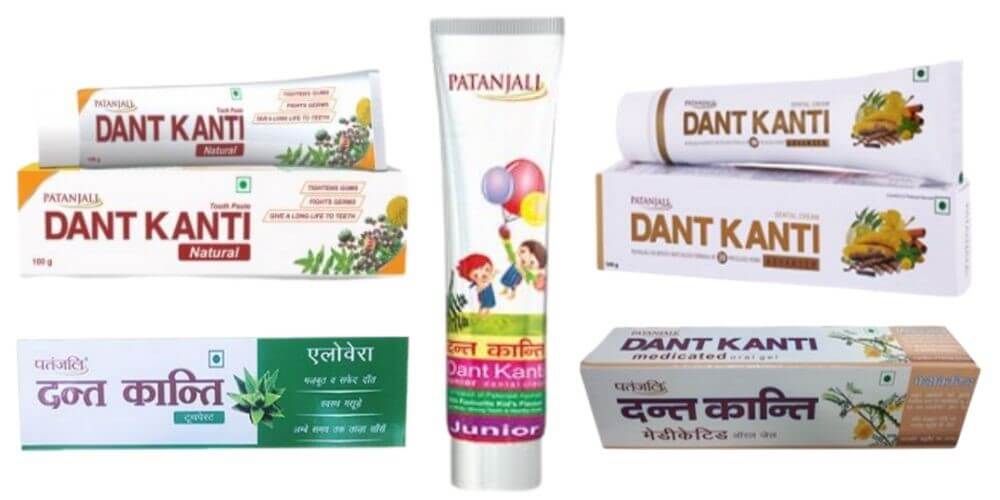 8. Meswak Toothpaste
Meswak toothpaste owned by Dabur, and Its taste is very different from other toothpaste, and now it depends on your taste. It is the best natural toothpaste for strong teeth, healthy gums, sensitive teeth, cavities, tooth decay, and plaque.
This toothpaste comes with a primary ingredient miswak plant extract(Salvadora persica), flavenoids, silica, fluoride, chlorides, and Vitamin C.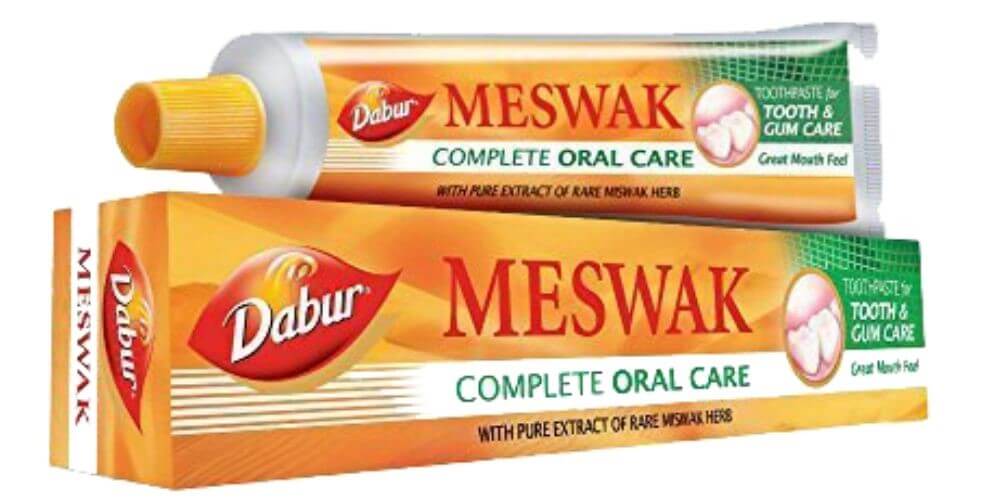 9. Dabur Red Paste Toothpaste
Dabur Red toothpaste is the best brand for oral care. It comes with clove, Mint, Tomar, and other herbal ingredients. Similarly, It is chemical-free, give shinier and healthy strong teeth, protect from bacteria and plaque. However, it is a more popular Ayurvedic brand in India.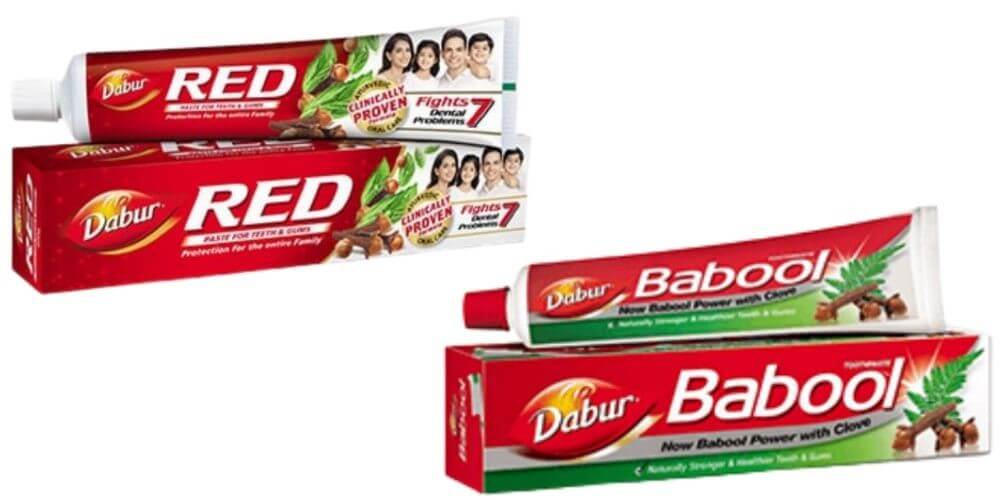 10. Vicco Vajradanti Toothpaste
The main ingredient in Vicco Vajradanti paste is turmeric. It is the oldest brand in India. Vicco Vajradanti is an excellent example of pure natural toothpaste and chemical-free ingredients. Similarly, It gives you excellent results in strengthening teeth, fighting with bacteria, cavities free, plaque, and bad breath. as per our research Vicco is one of the best toothpaste in india.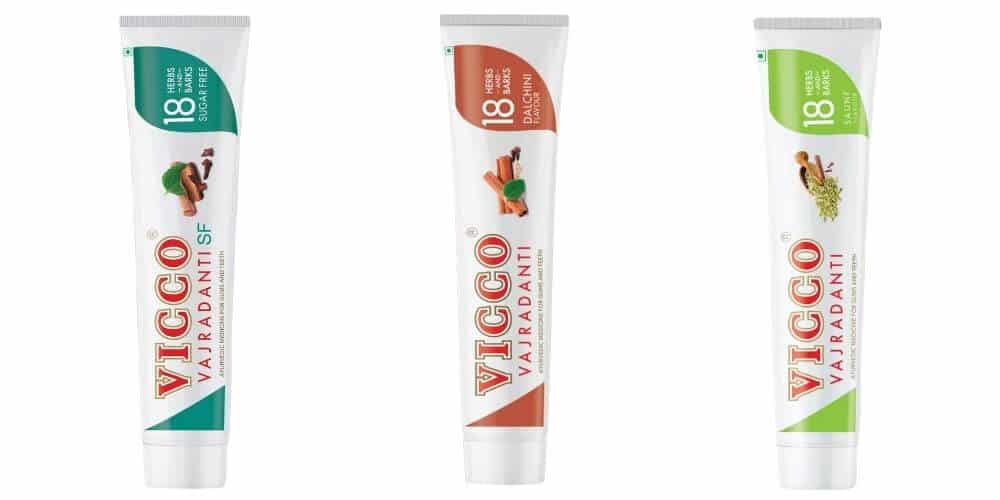 11. Amway Glister Toothpaste
Amway is a popular name in personal care products. It is expensive among other products but it is worth for money. This is an American company.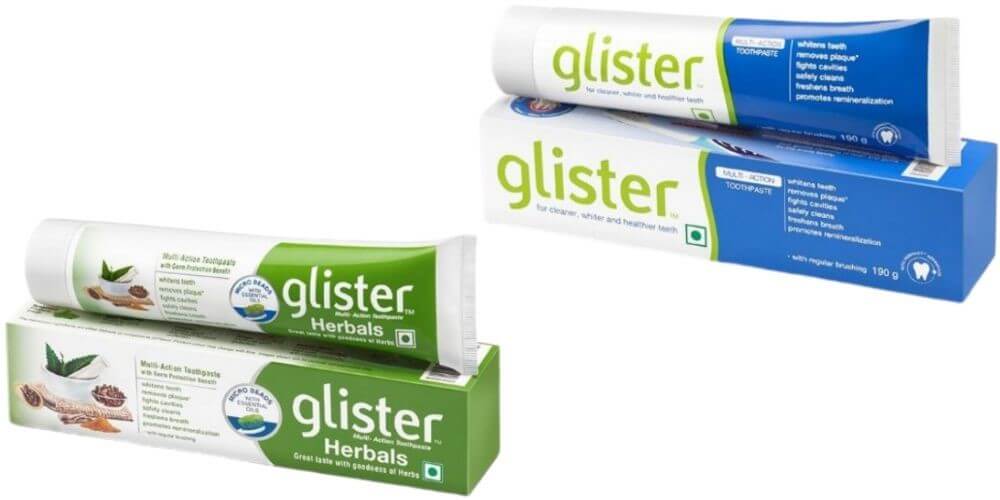 12. Lever Ayush Toothpaste
Lever Ayush toothpaste is owned by unilever. this company produces different personal care products like face wash, soap, cream, hair oil,etc.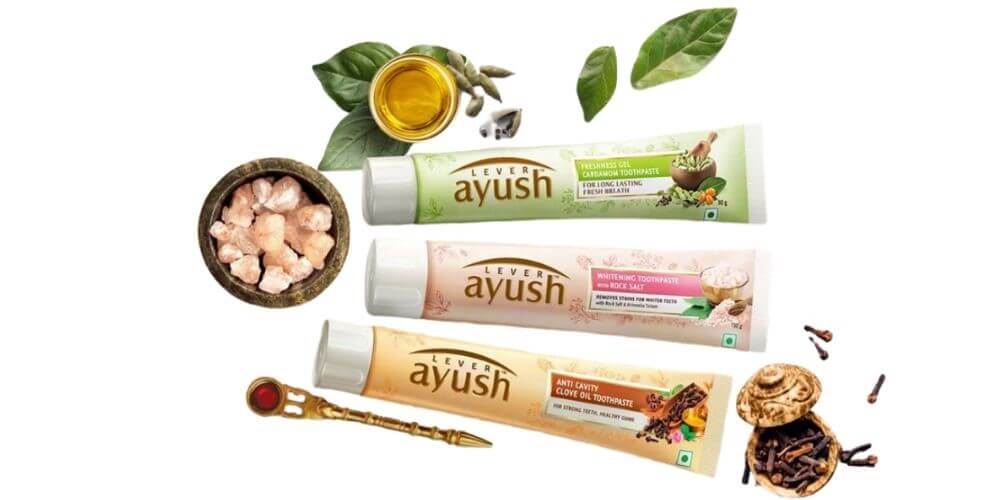 Conclusion : as per our research, From the above Top 12 best toothpaste brand in India we recommend use Vicco Vajradanti Toothpaste because it is chemical-free, contains ayurvedic ingredients, has no harmful colors, fluoride, and preservation. But choose according to your preferences. While selecting for children, be sure to look for ingredients in it.
Suggested Articles :
Top 20 Popular Indian Soap Brands for Bathing