Multiple Chyawanprash brands available in Indian Market but we categories 12 best Chyawanprash are as follows:
1. Dabur Chyawanprash
When we take the name Chyavanprash, The first name that comes to mind is Dabur Chyavanprash. Dabur is the oldest, most trusted, and best selling brand in India.
The best way to consume Dabur Chyavanprash is two teaspoons daily, one in the morning and the other at night.
Dabur Chyavanprash contains various medicinal ingredients, but Ashwagandha and Haritaki are the main ingredients as well as a rich source of Vitamin C. Dabur Chewanprash boosts the immune system, also protects against the common cough and cold.
It is a kind of tonic and can be used by anyone. But it should not be taken by pregnant women, children, or people with severe illnesses without the advice of a doctor. It comes with different variant such as Regular, Mango, Sugar-free, Mixed Fruit, Ratnaprash, and Chocolate.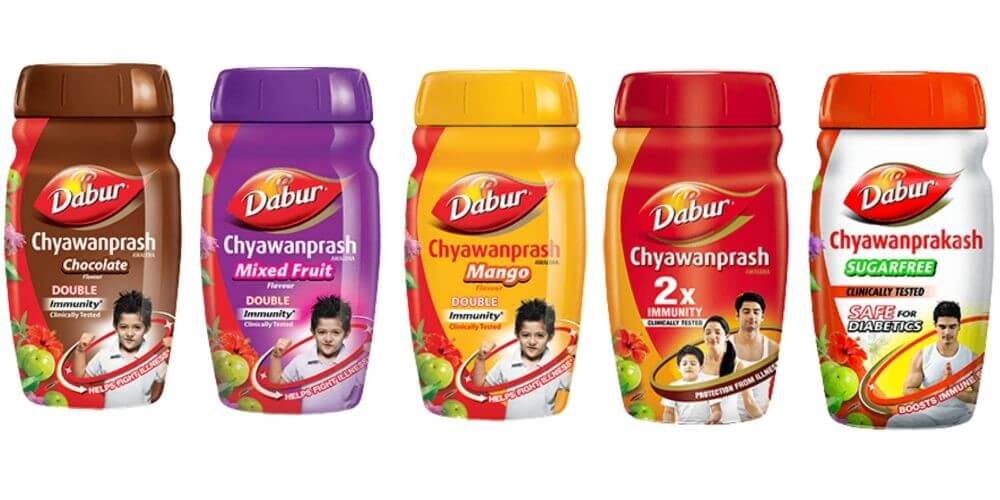 List of Dabur Chyawanprash Varient
Dabur Ratnaprash – For Vigour and Vitality
Chyawanprash for Kids Children chocolate
Chyawanprash for Kids Children mango
Chyawanprash for Kids Children mixed fruit
Dabur Chyawanprash – For Adults 2x immunity
Sugar Free Dabur Chyawanprash for diabetics
2. Zandu Chyawanprash
Zandu Chyawanprash brand offers different immunity-boosting variant. It comes in different variants such as Kesari jivan, Kesari jivan fit for Diabetics, Zandu Chyawanprashad Sugar-Free, Sona Chandi ChyawanPlus, Avaleha.
It is an old and famous brand in Balm(used as pain relief).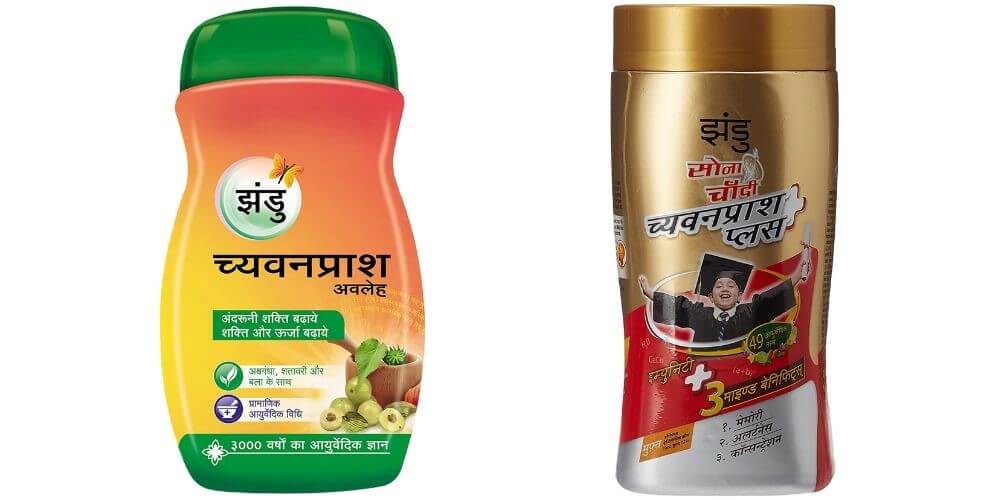 List of Zandu Chyavanprash in Market
Zandu Kesari Jivan
Zandu Kesari Jeevan Fit for Diabetics
Zandu Chyavanprashad
Zandu Chyavanprash Avaleha
Zandu Chyawanprashad Sugar-Free Immunity Builder
Zandu Sona Chandi ChyawanPlus
3. Himalaya chyavanaprasha
Himalaya Chyawanprash boosts your energy and supports the immune system, the richest source of Vitamin C and antioxidants. It contains weather-friendly ingredients so you can consume it in all seasons.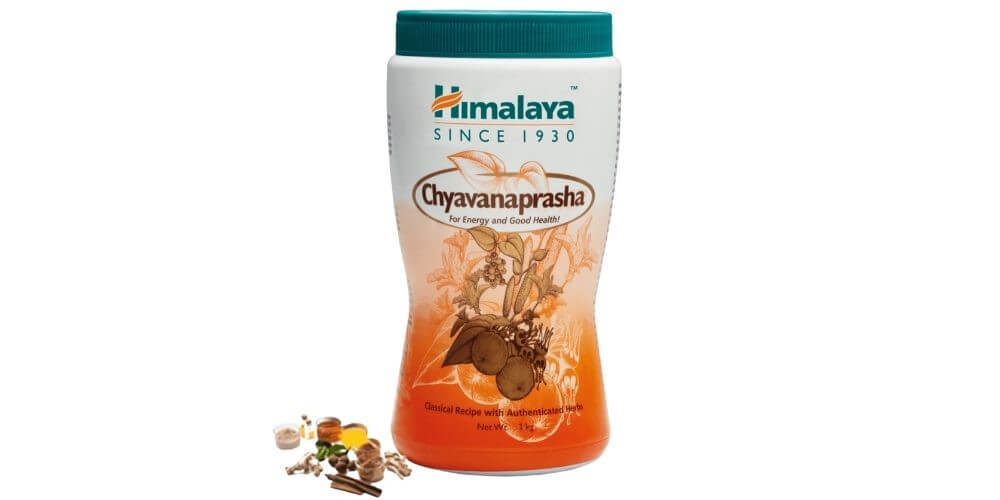 Himalaya Chyavanprasha is an excellent recipe with a combination of sweet, sour, pungent, bitter, and astringent flavors.
4. Baidyanath Chyawanprash
Baidyanath contains Vitamin-C rich, fresh Amla, and all the 52 essential herbs and minerals.
It is used as an immunity booster and prevents infections from cough & cold. Baidyanath Chavanpresh is especially ideal for all ages.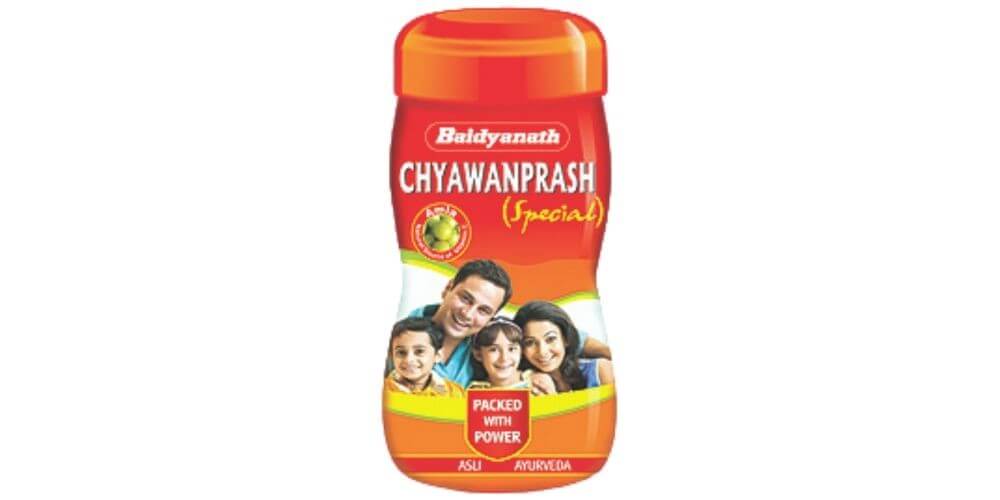 It is the best selling brand of all time, and it is a respected leader of Ayurvedic medicines in India.
5. Organic India Chyawanprash
This is good for the heart, Improves skin glow, strengthening the immune system, Nourishes brain cells, Purifies blood, reduces cough, and asthma.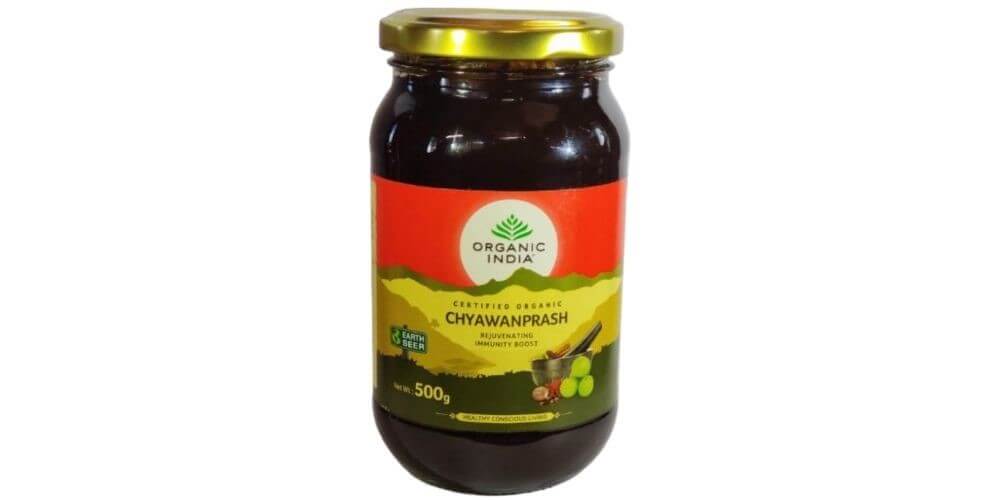 It also produces organic Tulsi green tea, body care products, a different type of capsules for sugar balance, weight balance, peaceful sleep, stress relief products, and many more.
6. Patanjali Chyawanprash
Patanjali Ayurved Limited is the Yoga Guru Ram Dev Baba's backed FMCG Company. It is a completely ayurvedic vegetarian product for all groups of age.
Regular use of this enhances your strength, immunity, stamina, digestive system, respiratory system, brainpower, and skin glow. It prevents a different seasonal disease like cough and cold.
7. Phalada Pure & Sure Organic Chyawanprash
Pure & Sure Organic Chyawanprash is chemicals free and certified organic product. It boosts your immunity, enhances memory, revives health, and vitality of your body.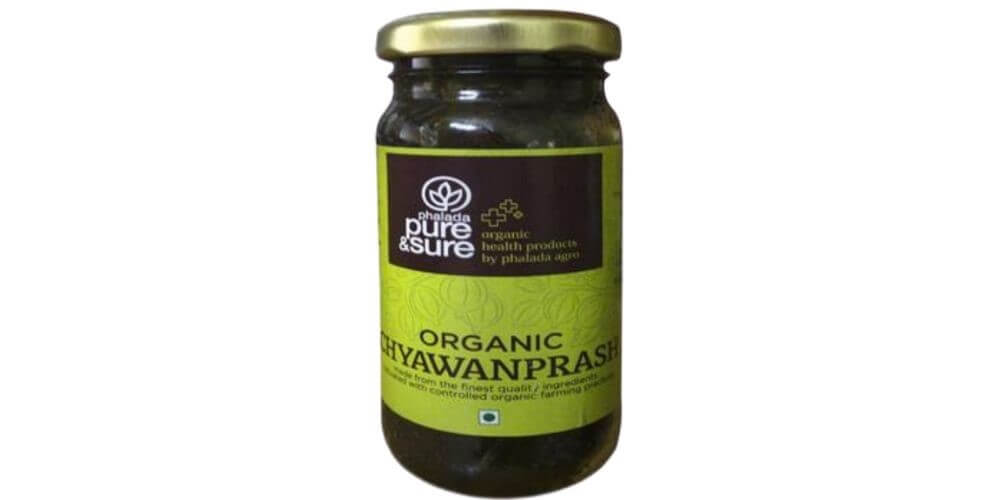 8. Hamdard Chyawanprash
The most well-known cold drink in India is Hamdard RoohAfza, which is naturally refreshing.
Hamdard helps with multiple health problems. It strengthens the brain & nerves, Useful in cold, cough & asthma, improves memory, strength to lungs, removes general debility and boosts stomach & liver.
Hamdard also produces Safi, RoohAfza, Roghan Badam, Joshina(herbal cough and cold remedy), Sualin(remedy for sore throat, cough, and hoarse voice), Gulab Arq, Lipotab, Masturin, etc.
9. Sri Sri Tattva Chyawanprash
Sri Sri Tattva Chyawanprash is made from more than 40 different herbs. This is made with the traditional technique of ancient Rishis and Ensuring the highest level of purity. The key ingredients of this SriSri Tattva are Amla and Pure honey.
Sri Sri Tattva also manufactures Turmeric Powder, Honey, Cow's Pure Ghee, Tulasi Arka, Black Rice, Red Rice, Glycerin Soap, Aloe Fresh Hand Sanitiser, etc.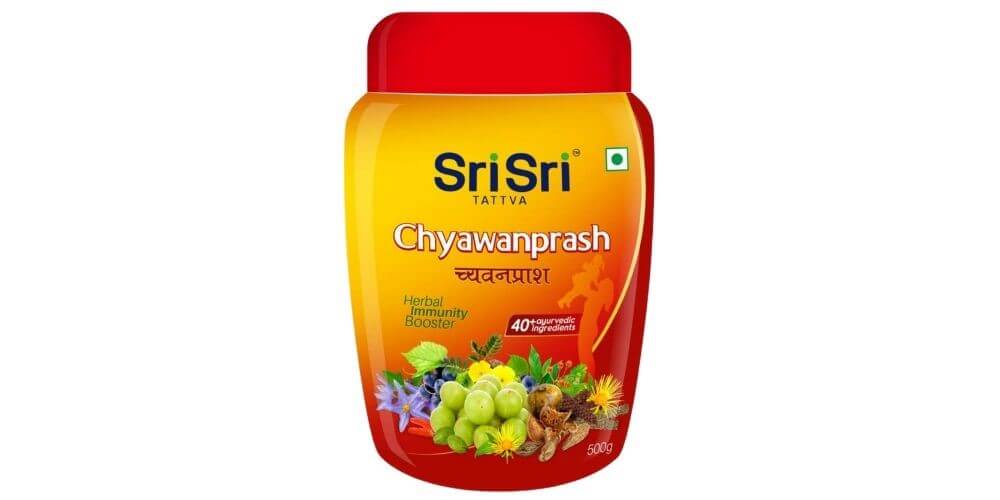 10. Kottakkal Chyavanaprasam
Kottakkal is a combination of more than 40 different medicinal Ayurvedic herbs
it helps to make skin bright and healthy, nourishes the reproductive tissues, healthy metabolism, and many more.
The main ingredient of Kottakkal Chyavanaprasam is Amla, Honey, ghee, and raw sugar.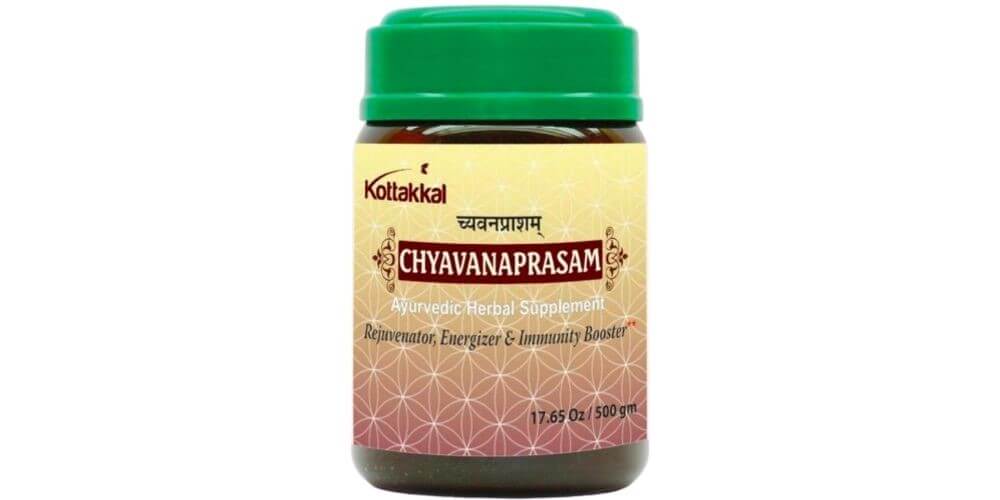 11. Unjha Rajwadiprash(Rajwadi) Gold Chyawanprash
Unjha Rajwadi is Natural, Safe and Totally Chemical-Free, it Strengthens Body's Internal Defense Mechanism, Reinforces The Immune System And Helps Fight Disease.
Clinically proved beneficial in
Premature debility
Body wasting and Under weight
Debilitated weakness
Deficiency of vital elements and minerals
Health supplement during illness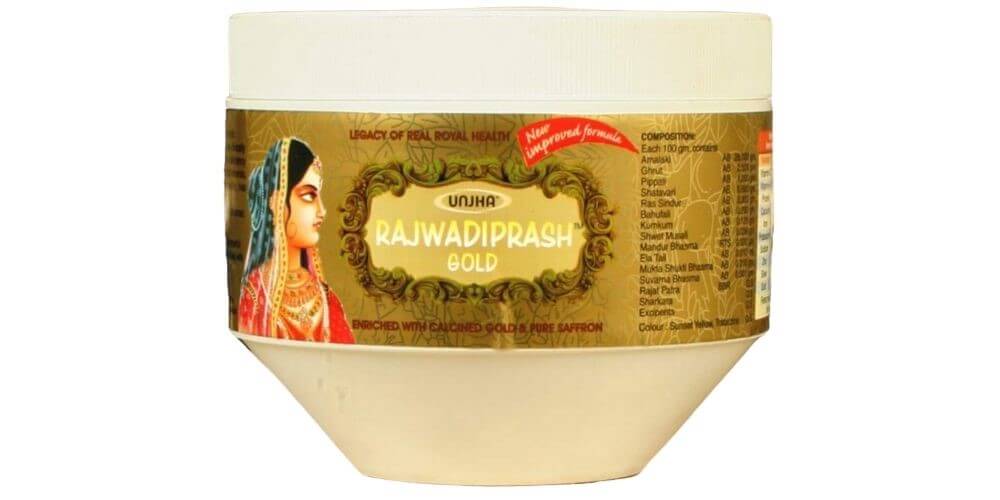 12. Khadi Mauri Herbal Chyawanprash
Enriched with Shilaji, Amla, and High-Quality Herbal Ingredients. It Boosts Immunity & Power. Amla contains vita C, which keeps the body protected.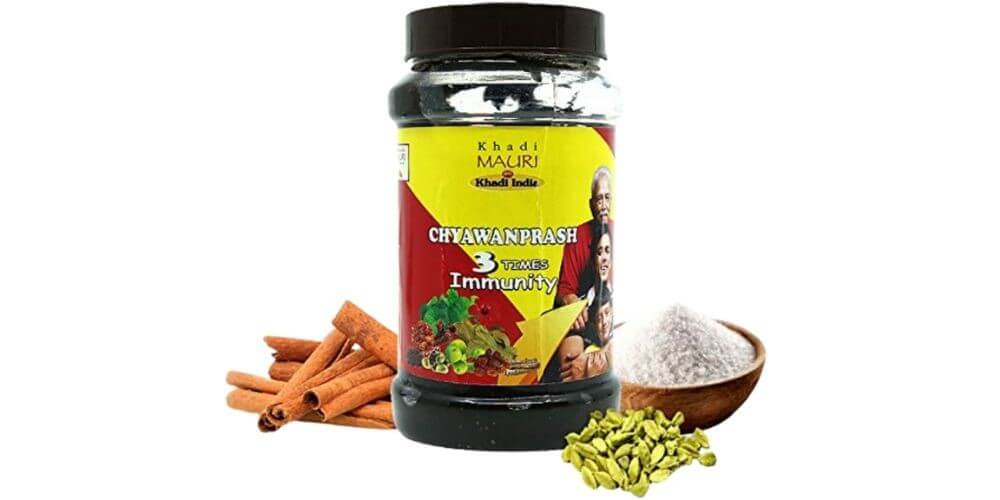 There are few more brands of Chyawanprash available in Indian Market like
Ayurvedic Dhootpapeshwar Swamala Chywanprash
Kerala Ayurveda Chywanprash
Jiva Ayurveda Immunity Boosts Chywanprash
Khandige Organic Chywanprash
Amrita Drugs Chywanprash
Maharishi Ayurveda Chyavanprash
Banyan Botanicals Chyavanprash
Dhootapapeshwar Swamala
Apollo Life Chywanprash
Conclusion:
There are various best Chyawanprash brands available in the market. Many brands use artificial preservatives and chemicals to make their products last longer, which is not good for health. Read the ingredients before buying these products.
We don't promote any brands, but you can try Pure & Sure Organic Chyawanprash at least once.
Suggested Articles :